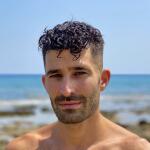 Stefan Arestis
When it comes to welcoming gay travelers, Taiwan is the only place in Asia that we think tops Thailand. They even have a temple dedicated to a gay god!
Taiwan is super gay – it has the largest gay Pride in Asia, it was the first place in Asia to legalize gay marriage and has a massive gay scene in Taipei. That's before we've even mentioned the delicious food, breathtaking scenery and really friendly charming Taiwanese people – who will make you smile every time you speak to them!
In short, Taiwan gave us everything we wanted from our Asian gaycation. We'd go back in a heartbeat and know you will want to as well. Regardless of whether or not you're a seasoned traveler or maybe thinking about your first adventure, Taiwan is a place to consider. In this gay country guide to Taiwan, we've put together our fabulous discoveries from our adventures together with safety advice, culinary inspiration and the best gay events to seek out.
Gay rights in Taiwan
The first thing to note is that gay rights in Taiwan are very progressive. More progressive than some Western countries so we even rate it as one of the most gay friendly places in the world. It's no wonder that Taiwan is so welcoming to LGBTQ travelers. This was immediately apparent to us from the moment we touched down at Taipei's airport. We never had any issues whatsoever and we felt so comfortable while we were travelling around.
As of May 2019 gay couples are allowed to marry. This was naturally met with joyous celebration both in Taiwan and in Asia because it was the first place on the entire continent to ever legalise gay marriage! In addition, all members of the LGBTQ community are fully protected by law from discrimination. This has been in written into the constitution since 2003. And one of the first groups protected were the children. Schools could no longer discriminate based on their identity. If proved to be doing this, it results in a fine of NT$100,000 (roughly USD$3,000). This paved the way for young activists to grow up with this protection and march for the full rights that they now enjoy.
Alongside all of this, Taiwan offers full rights to transgender individuals. So as you can imagine, a pretty sweet place to be LGBTQ in Asia! For a more local perspective, check out our interview with Mr Gay Taiwan.
Is Taiwan safe for gay travelers?
As you may have inferred from our little jaunt into the legal system above with LGBTQ rights in Taiwan, it is very safe for gay travelers in Taiwan. As a gay couple traveling around Taiwan, we never had any issues at all. All the hotels we stayed at were super welcoming to us as a gay couple – you could tell they were accustomed to dealing with LGBTQ guests.
We found that homosexuality is generally very visible across Taiwanese society and its culture, which is what has helped create the air of tolerance and diversity we experienced throughout the country. A large part of this is down to the country's main religions: Taoism and Buddhism, which believe that everything happens for a reason and so if a man falls in love with a man, then so be it. It's quite a beautiful philosophy that many of us could do with adopting in our lives!
As with every country in the world, there are always pockets of homophobia to be expected, particularly in rural areas and amongst the older members of society. The difference with the Taiwanese however, is that politeness is a cornerstone of society (like the Japanese), so even if they may not approve, they'd never dare express this publicly. Couple this with their laissez-faire attitude, the worst you'd ever get in Taiwan is the odd look.
Top experiences in Taiwan for gay travelers
Taiwan is not the largest country in the world. To give you an idea, it's about the same size as the Netherlands or a quarter the size of Florida. Despite its size, it's packed with so much to see and do, not to mention a fantastic gay scene in Taipei. In this section, we set out some of the top experiences in Taiwan for LGBTQ travelers:
Taipei: the bustling and super gay capital city
The capital city has plenty of things to do, including visiting one of the only places in the world where you can worship a gay god! The gay scene in Taipei is strong with plenty of nooks and crannies for you to explore to your little gay heart's content. There are great places for you to do your shopping like in the Wunhua district and lots of Night Markets to sample some of the best Taiwanese street food. Also, be sure to check out the iconic Taipei 101 tower.
Taroko National Park: the prettiest site in Taiwan
Taroko National Park is our favorite scenic highlight of Taiwan. Not-to-be missed, this place is stunning! The National Park contains the country's deepest gorge, which reaches a total depth of 18km (11 miles). Nestled into the gorge is Tianxiang, a small town with an impressive monastery. We also loved the Xiangde Buddhist Temple, which is decorated in a distinct blend of white, orange and gold. Getting to Taroko is another highlight – a very scenic train ride from Taipei.
Go Insta-crazy in the Rainbow Village of Taichung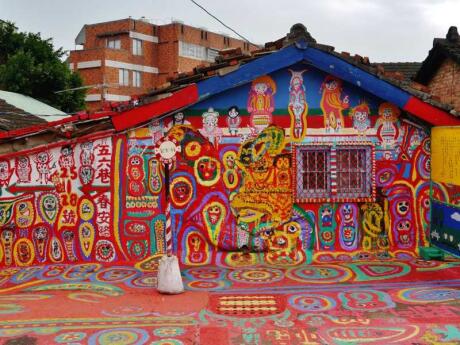 Taichung is Taiwan's second city after Taipei, located on the central west side of the country. It's the perfect base to access the mountainous areas of central Taiwan as well as the Sun Moon Lake. Taichung is also a bustling cultural centre with lots of museums and beautiful temples. But what really got us excited was the rainbow village, a dwelling decorated in a myriad of colors by a former soldier nicknamed "Grandpa". Taichung also has a small vibrant gay scene to check out with bars like Plaza and queer-friendly hangouts like No Boundary. See all the best bits in this day tour of Taichung.
Read more from original post by Nomadic Boys